1: Our Vision:

BeachSide CrossFit is a place of a close community where the member becomes the hero and their goals become our goals. We are tasked with the highest mission of providing an instrument for the most important piece of a person's life, their health and fitness. The BeachSide CrossFit experience is one that surpasses the initial desires of our members.
2: Our Mission:
We pledge to provide the best hour experience with superb coaching & immaculate CrossFit facility for our members who will always find a positive, fun and effective atmosphere encompassed by a close community.
3: Our Core Values
We are the guide – We always help the member win by guiding them.

We are hungry – We always strive to be better at craft of coaching and member experience.

We are positive – We always keep an optimistic attitude.
"I was 34 years old and as out of shape as I'd ever been. So I decided it was time to go back to join a gym to start the same 3-6 month cycle again. (I'd always been an off and on member at the huge gyms where everyone is wearing headphones, carrying plastic gallon water jugs, checking Instagram on the weight bench, and skipping leg day.) I rolled up to gym of choice to go sign my contract. "Things would be different this time!" I told myself, but the front desk was closed on Sunday. This was a blessing in disguise. I did a quick Google maps search of gyms in Ventura and Beachside CrossFit popped up. I read some of reviews and they were all positive. I'd never done CrossFit before but I had some past friends and extended family that had and they all spoke very highly of it. I contacted Nate using the BSCF website to schedule my no sweat interview. After meeting with Nate and Henry and talking about what I was looking to achieve in regards to my fitness goals I took the plunge and signed up for the foundations program. One of the best decisions I've ever made!" – Sam T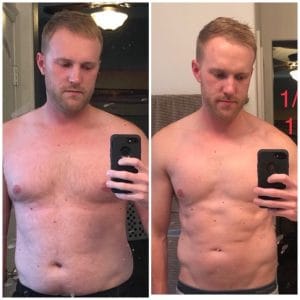 "As someone who has never been into working out in a gym, I must say that this has been a great place to start. I had been fighting multiple neck/shoulder injuries from years of volleyball, running, paddling and surfing. PT was just sooo boring! I knew I needed to strengthen those neglected muscles. I also needed something that would be interesting and fun! Hey that crossfit thing looks like fun! Having ZERO experience with weight lifting, I was fearful of further injury, but intrigued by their emphasis on functional movement. At our first meeting, Nate listened to my concerns and said he could help. He set me up with Mee for foundations. Mee is awesome! She paid close attention to ensure I had the techniques down and was so careful about injury prevention. That is the great thing about BSCF! The coaches take an interest in each athlete, providing encouragement and emphasizing technique for an effective, injury free workout. After 6 months, I feel great and have learned a lot (and not just from googling all those abbreviations!). ???? I look forward to the WODs and the camaraderie and support I get from the staff and whole community is just gravy. Thanks Mee, Nate, Lindsay, Kristin, Cindy and the rest of the BSCF staff. " – Lisa M
"Being new to Crossfit I was nervous about stepping into my first box. I was worried about being judged on being the new guy or even intimated. But, to my surprise none of that happened. I was welcomed in with open arms and greeted into a beautiful facility. I never knew gyms could be so clean and so advanced. Staff is fantastic and extremely helpful. I definitely recommend beachside Crossfit to anyone who is curious about starting Crossfit or looking for a change of scenery" –Toni S
"This is such an amazing gym! Not just the programming but the warm and friendly community. The coaches are awesome, supportive and knowledgeable. More importantly, they care. Best experience I have ever had in a gym." –Bonnie S
"I don't know much about your reputation to be honest but your staff and facility definitely exceeded my expectations,???????????? I'm stoked!" –Stephanie