WAg Certified NUTRITION COACHING
Nutrition Coaching
Dial in your fitness by way of wholesome, fuel-focused nutrition. We've created a fine-tuned nutrition program, powered by Working Against Gravity, to ensure that every minute you spend in the gym pays off — mentally and physically. Our nutrition coach will work with you to help you turn your sweat sessions into the results you're after.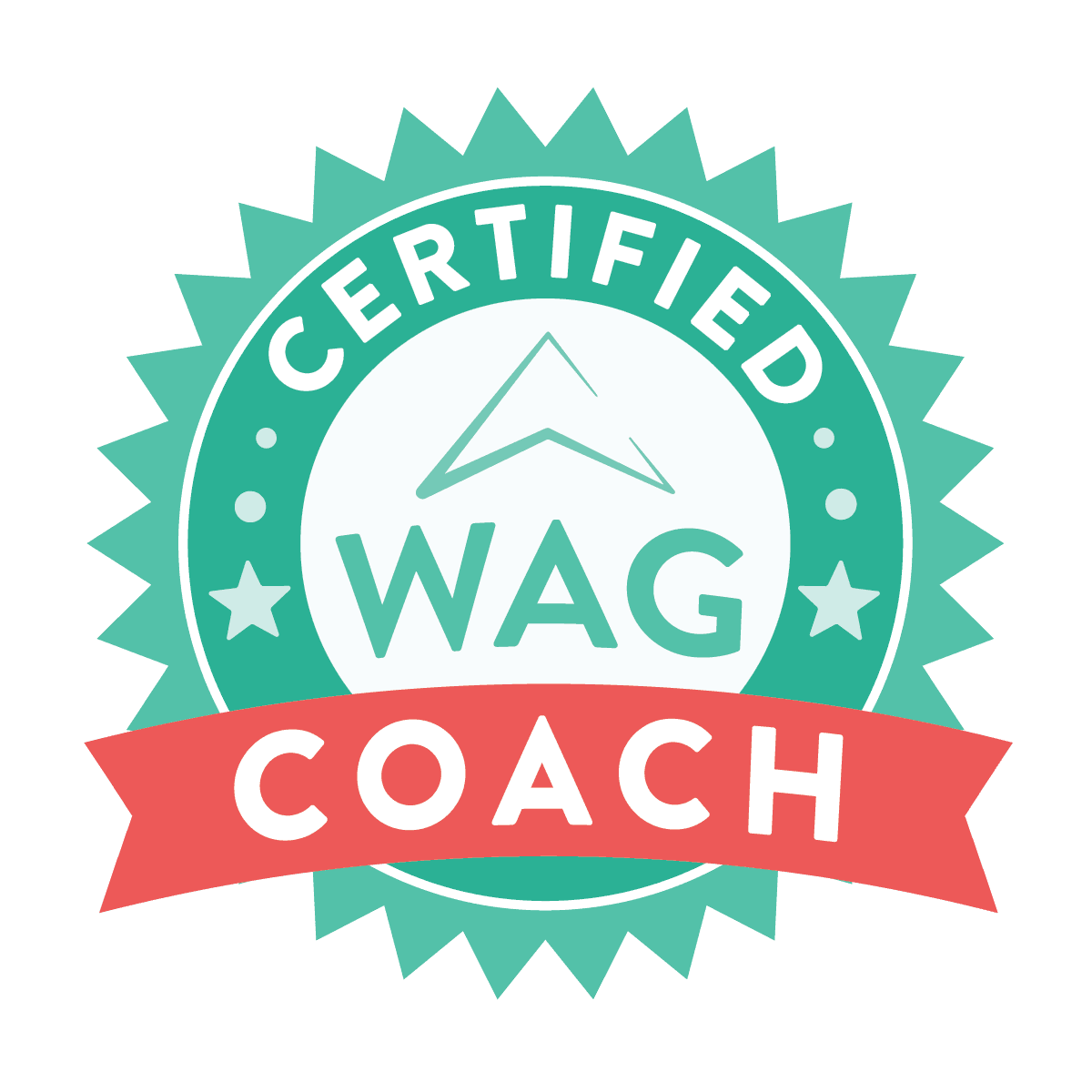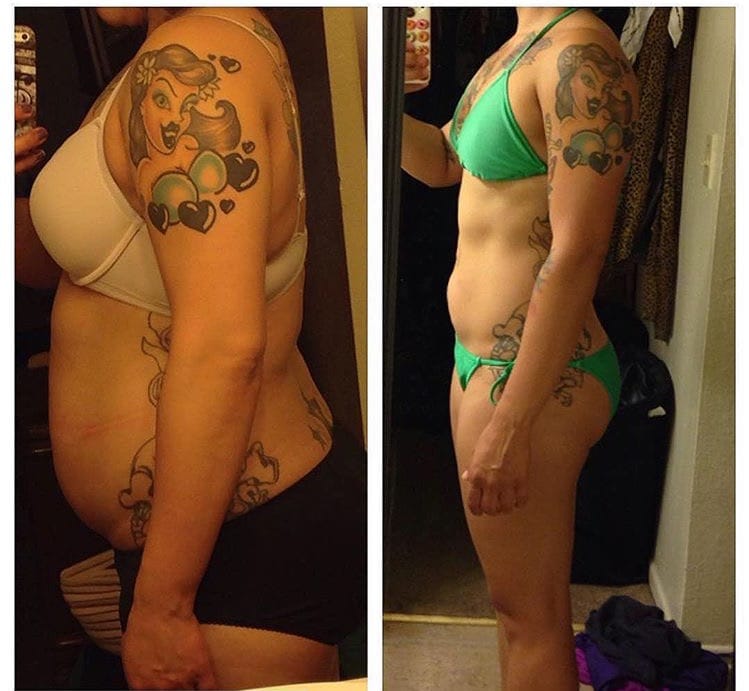 How does it work
This program pairs you with a nutrition coach from our gym who has been screened, trained and certified to teach you the ins and outs of meal prepping, weighing, tracking and more. Your coach understands that every physical body is different. They listen, adjust and help you learn how to make sense of your own anatomy and relationship with food. Because no two bodies are the same. 
1: Fill Out the Questionnaire
Answer a few questions so we can get to know you.
2: Meet Your Coach
We'll assign you to a nutrition coach to guide you through every step. After all, they were once in your shoes, too!
3: Set your goals
Then your coach will tell you how many grams of protein, fats, and carbs you need to consume daily to reach them. If tracking is new to you, don't stress! Your coach will work with you to determine where to start with your nutrition and guide you along the way.
4:Keep Track
Chart your progress in one central web app that logs your weight, macronutrients, measurements, milestones, photos and more.
What to Expect
Learn how to track your food and use tracking apps
Learn what your body needs in order to feel and perform at its best
Gain an understanding of serving sizes, quality and nutritional composition of your favorite dishes
Establish habits and routine
Learn about yourself and your tendencies with food – emotions, triggers, cravings, etc.
Develop a positive relationship with food
Experience first-hand the importance of consistency to see the best possible results
Work through the initial discomfort of tracking your food, eating at restaurants and

dealing with peer pressure
*Results may vary. Following your coach's guidelines is required for best results.
Pricing
Experience the benefits of one-on-one nutrition coaching, with one of our coaches . He or she will work with you to develop a plan to reach your goals. And, by the "end," you'll become the expert. It's an investment worth making in your health — one that buys earned results.
One-on-One Support
$139 Per month
Weekly online check-ins with your coach
Guaranteed 24/hr response time 
Access to members-only Facebook Group
Online nutrition portal inside our web app, Seismic
Knowledge Base full of exclusive macro-counting education
The same nutrition program that's helped over 15,000 people reach their health and fitness goals!
Why WAG?
Simple. This is the nutrition program that's trusted by the pros. CrossFit champions, Olympians and professional athletes across many different sports are among some of WAG's loyal members. If it's worked for them, then it'll work for you. Stick with it and you'll see results like the 15,000 others who have changed their lives with this program. Don't just take our word for it… 
"This program was life-altering. My goal was body compositional change to support the goal of competitive CrossFit. I am currently 11 lbs down!
Before WAG, I had come to accept that how I looked, how I felt in my skin and how I performed was just how it is. That I had reached, what was in my mind, the naturally pre-determined and unsatisfying state of 'as good as it gets.' This state of mind was really just an acknowledgment of my own powerlessness over my health. 
This program offered education in an area where I felt overwhelmed and empowerment where I felt powerless. My coach and WAG's philosophy gave me a new set of skills. Spending the last 6 months honing those skills with their support has built my confidence and forever changed my perspective on eating for performance, and health in general."
–– Merissa Maiorano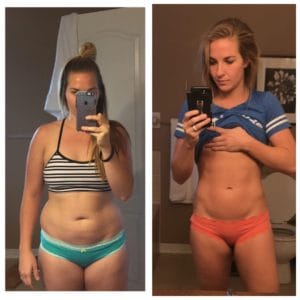 "This program is incredible. The changes in how I looked and felt blew my mind and I quickly became addicted to this process. My coach was so supportive of my goals and helping me reach them while juggling my very busy life as a shift worker and mom of two. It has had a huge positive impact on my life in terms of health, food knowledge and getting rid of the negative restrictive "diet" mindset I'd been using unsuccessfully for years. The confidence this program has given me in and outside of the gym has been life-changing."
"I'm sure I've tried pretty much every fad diet out there. I had gotten to the point where the only way I could lose weight was to eat under 1200 calories per day…  I went to bed hungry every night, and I was pretty resigned to the fact that that was going to be how I had to live if I wanted to get the weight to stay off. Of course, that was killing my CrossFit workouts; and it was impossible to maintain. 
I was paired with my coach and immediately I started pushing back on the idea of eating so much. She was exactly what I needed: that confident, calm 'voice' to say, I've got you. Let ME worry about the scale. You just focus on hitting your macros and see what happens… I would get frustrated when I felt like I was eating well, working out hard, and the scale would go UP, not down. My coach took those opportunities to encourage me and educate me on all the reasons that could be happening. It really was transformational for my thinking. I could go on and on about what I've learned!"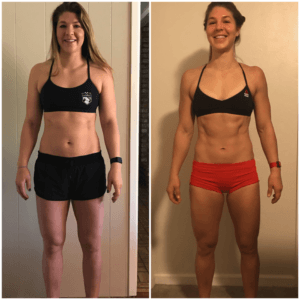 It has been so helpful to check in daily, get ideas and feedback Lindsay is encouraging and has so many suggestions for snacks on the go, meal prep and dining out. Loving everything about the nutrition program
Its going great, Lindsay is wonderful to work with. Love having the advice and guidance along with the accountability
It's been amazing! Lindsay is great to work with and constantly reminds me to create balance and take care of myself. I can't recommend the nutrition program enough.
Where has Lindsay been all my life! She is the best! Her ability to offer suggestions and input is fantastic. She is helping me change my relationship with food (and believe me that relationship has not been good).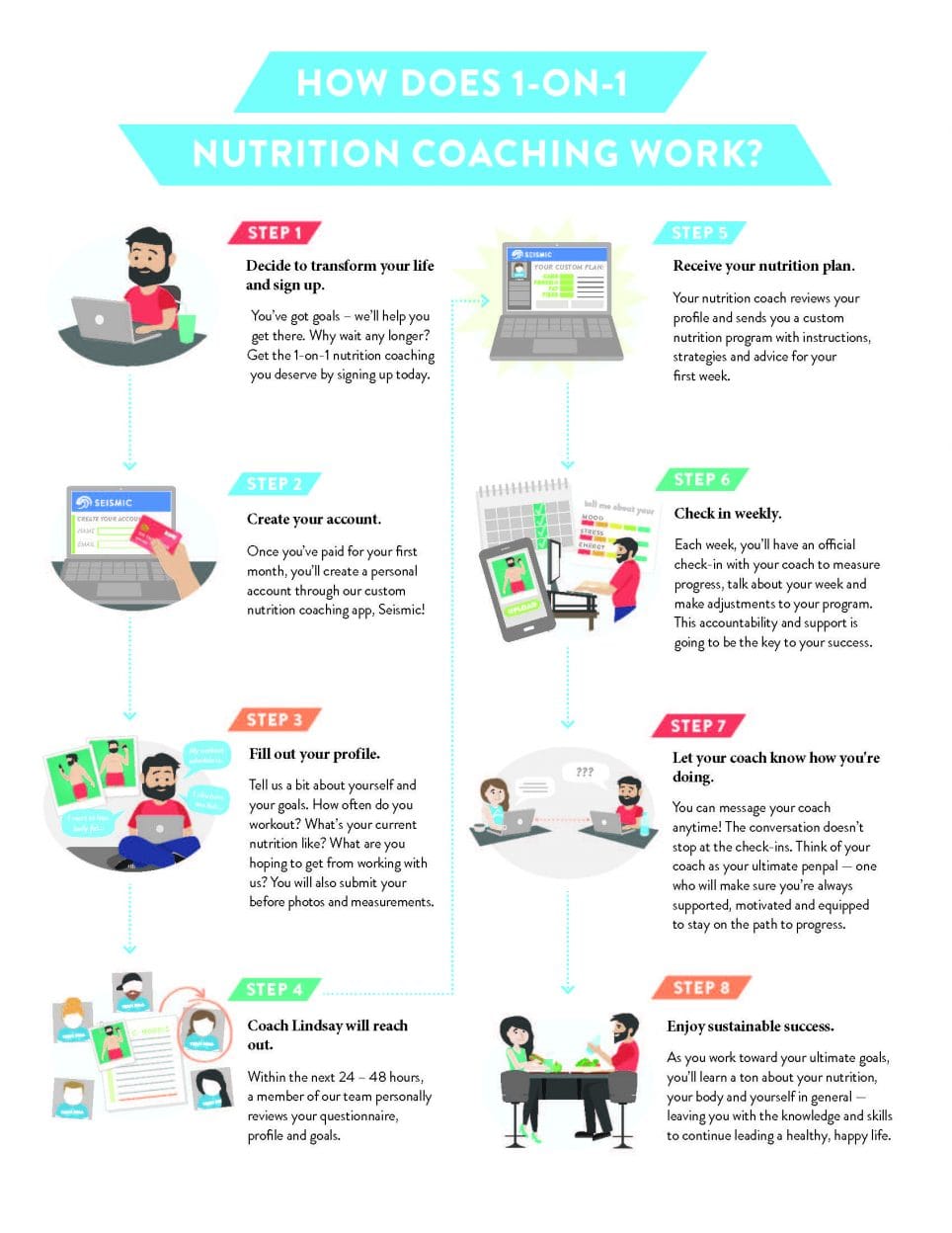 *While we are NOT certified nutritionists, we have years of experience providing guidelines and nutritional advice on what works for people with both normal and high metabolic rates.Always consult your physician before changing your diet.