THE MOST EFFECTIVE FITNESS PROGRAMS ARE FOUNDED ON A BASE OF SOUND NUTRITION
Imagine how you will feel knowing you decided to get expert help from a caring coach. You find yourself loving life and enjoying food without the constant guilt or questions. Your goals are within reach and we can help you.
"I had such a great experience working with Lindsay. I had some deep-rooted eating/body image issues she helped me uncover and work through. She taught me the importance of loving my body at every stage as I work through my goals. I'm so thankful for my time working with her."
"I was reflecting about how free I feel waking up knowing I'm in control, not some 10 day detox or restricted meal plan. I am so happy with my choices and now feel like I have lots of tools to be successful. I'm so appreciative for Lindsay's support and mentoring."
The BSCF NUTRITION COACHING
PROCESS
Our Nutrition program combines behavioral change with achievement to create habits that will last a LIFETIME. No quick fix.
Our Nutrition Coaching Program is very unique and is designed to provide individuals with an easy, science-based approach to nutrition and wellness, using simple behavior modification strategies to create positive change without the stress of "dieting". Imagine the confidence you could have walking into the grocery store or a restaurant knowing exactly what you should eat to not only feel great but look great too! The internet is filled with diet plans, recipe plans, and other information. There are a lot of programs out there telling you what NOT to eat or how to replace meals with supplements or a shake but what if we could attain this confidence through learning what TO eat and using whole foods with limited ingredients? Behold, a teaching program to build life-long skills one step at a time!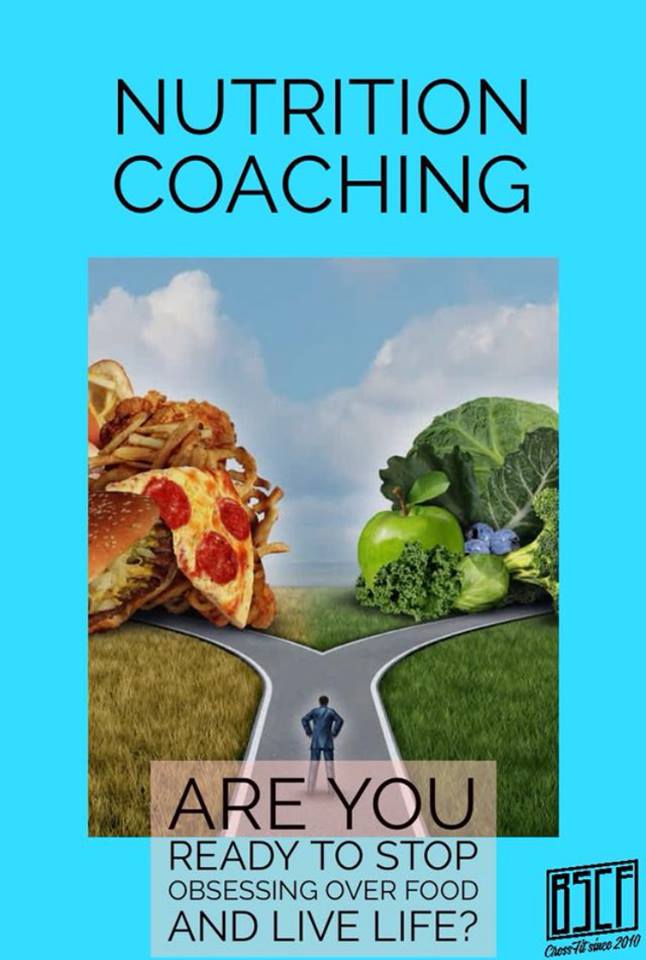 It has been so helpful to check in daily, get ideas and feedback Lindsay is encouraging and has so many suggestions for snacks on the go, meal prep and dining out. Loving everything about the nutrition program
Its going great, Lindsay is wonderful to work with. Love having the advice and guidance along with the accountability
It's been amazing! Lindsay is great to work with and constantly reminds me to create balance and take care of myself. I can't recommend the nutrition program enough.
Where has Lindsay been all my life! She is the best! Her ability to offer suggestions and input is fantastic. She is helping me change my relationship with food (and believe me that relationship has not been good).
OUR NUTRITION COACHING PROGRAMS
Primer or needing a refresher?

90 minute call (can be split into 2 45 minute sessions)

Nutritional foundation and principlesPlanning for a healthy dayMeal

planning/prep/timing support

Tips for making healthy choices when at restaurants and traveling
Transforming your relationship with food with continuous support and accountability

45 minute goal setting call

Daily accountability (sending pictures of meals and snacks via email)

Weekly coaching feedback via email

30 minute weekly check in call to review successes and challenges of the week and to set intentions and plan for the upcoming week
PLATINUM
Guided Transformation
Complete transformation of body, mind and spirit

Highest level of support and accountability

"Coach in pocket" available in real time to be your trusted resource and companion on your journey to optimal health

Real time feedback at each meal, every day, 7 days per weekMeal planning/prep/timing support, including suggested shopping lists

Restaurant meal choice recommendations

Exercise accountability
*While we are NOT certified nutritionists, we have
years of experience providing guidelines and
nutritional advice on what works for people with
both normal and high metabolic rates.Always
consult your physician before changing your diet.