"WOD GEAR" Team Series 2011

BSCF REPS- December 18th- Myself, Jay, Mee Lee and Ginger will be reppen at this one!
Information:
WOD Gear Clothing Company presents the very first, Los Angeles based "Team" competition at the unique, urban-oasis campus of Occidental College. Situated in the foothills of Los Angeles, OXY promotes one of the finest outdoor stadiums in all of Southern California. WOD Gear will utilize this outdoor gem to create one of the finest challenging,
A recap from Sundays Team CrossFit Competition………………….
Sunny skies, and a College football field made up the venue for WOD Gears "Team Series" competition. The main stage took place on the football field, utilizing 70 of the 100 yards available, the remaining 30 yards used for the Teams Tent city, each team taking stake in there spot to recoup, recover and recap what the hell just took place or what was about to happen. All 55 of the teams present would throwdown 3 WoDs throughout the day, we would have our chances to give 100% at 9:20am, 10:30am and 2:30pm. The day ahead wold eventually place us 35th out of 55, not our best team performance, BUT could very well have been the most entertaining and from my end the funniest one to look back at, and laughing is important. After all unless your looking to get paid off of these events the bottom line is too have fun and look back with a smile and we
definitely checked that one off.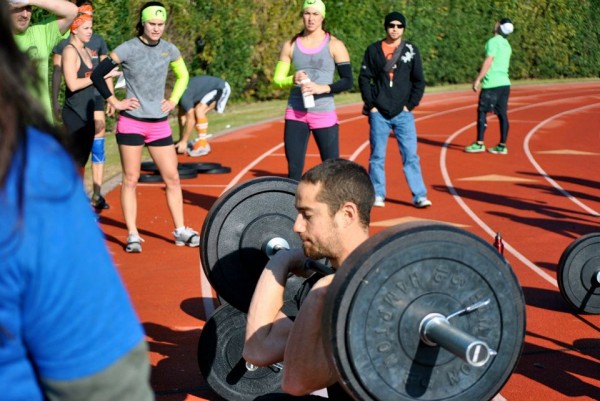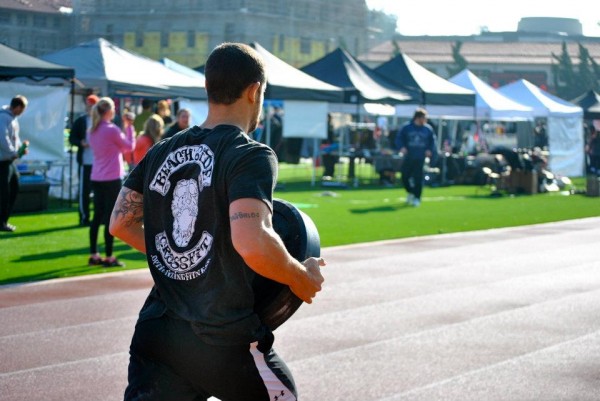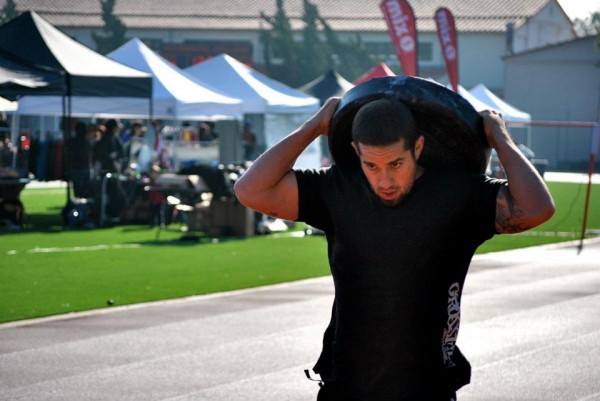 We warmed up for out 9:20 "floater":
One person at a time
10 squat cleans 145/105
Sprint 200M carrying 45/25# plate
It is 100M down and 100M back before the next team member goes.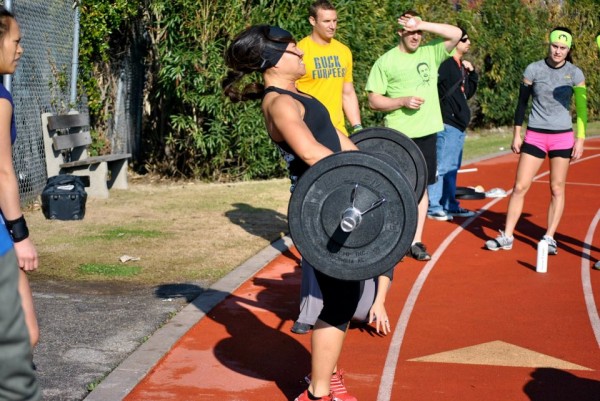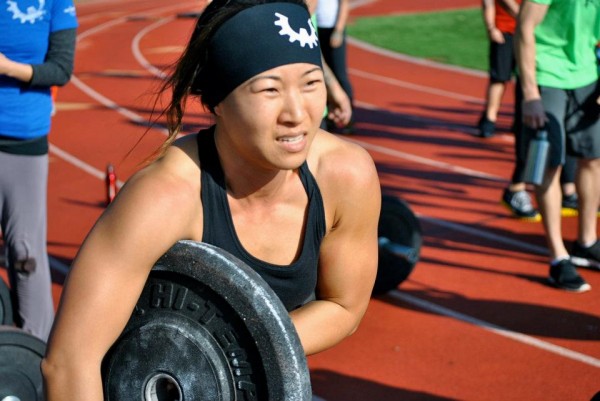 The roster was planned as this. Ginger, Mee Lee, Jay and Myself. The girls setting the pace and the boys finishing strong. Ginger cranked out 7 unbroken Cleans at #105, finished up and took off for a run. With her back Mee Lee went 5 and 5 and shot off. Jay smashed out 10 unbroken at 145# and jetted off plate in tow, he passed the cone and made his way back. Running towards the team with all his steam, The judged yelled, we yelled…Damn forgot to go AROUND the cone. Once we had his attention he had to make a uturn mid run and go back AROUND The cone, cursing to the gods he made his way back, a small technical error. With that I had my go around and finished up fast I could. And with that small technical error would set our momentum for the day.
with a small 20 minute break we were soon at the staging line for WOD1. and it went like this:
Teams Start at the Goal line:
Run to a 8ft Wall Climb at the 25 yard line
Then run to the 50 yard line to a prowler push back to the 25 yard line and pull so entire prowler past the goal line
100 Dumbbells Shoulder Press 45/35 (at the 10 yard line)
100 Pistols (at the 20)
8ft Wall Climb (at the 25)
100 kettlebell swings 70/53 (at the 30)
100 back squats 155/105 (at the 40)
8ft Wall Climb (at the 25)
Then push the Prowler back to the 25yard line and pull so entire prowler past the 50 yard line
15 minute limit
a little confusing at first? sure but it makes since once you watch. AND we should have watched the other teams first. We were still discussing what wall we go to when , 3..2..1…go! and off we raced to the first wall. Jay made a human stair which mee lee just could not seem to balance on and when from leg to hands to shoulder to neck. With a little shove from me she was up and over. Ginger followed up, jay and I went over. We sprinted for the Prowler at the 50 yard line. With the boys Pushing and the girls holding on to the tug rope we made our way to the 25 yard line, about 10 yards back the Judge told us "once you get to the 25. Turn around!!!" at the 25 yard line we turned the prowler around, all while being yelled at by the judge to "just turn around, no, not that, turn around") all the while we look like 4 year olds playing soccer, we didn't know what the hell was going on until we saw the other teams take the lead in front of us. We were supposed to go from PUSHING to PUllING the prowler at the 25 (not sure what the judge was going on about), on to the dumbell Shoulder to Overhead. I took lead, followed by Jay and Mee Lee. Ginger picked up those dumbells for the first time got them to her shoulders, took a deep breath, dipped down driving up and….couldn't, quite get them locked up, in fact one arm went in a odd direction, but the team felt the effort and that energized the of us to push harder, back through and Ginger was not giving up just yet, picked them up on the shoulders, dip down, fast drive up with fury pushing those 35# overhead but with a slight error with path of the dumbell it came crashing down behind her ear, with a loud curse and checking for blood (there was none) she valiantly gave up on those reps, more determined then ever, we got out 100 reps out and moved on.
Pistols next, Ginger banged out about 45 of those things, Jay about 25 or 30, Mee lee a whole bunch and And looking silly as crap I got 5 of what could be the ugliest pistols of all time.
Back to the wall, again Jay made a human ladder hand, shoulder, head was stepped on. The ladder did not get used in the most efficient manner but the girls got over. 100 KBS was the next order of action. Ginger swung 15 reps, Mee lee followed with a high number and Jay brought it to 50, with grip about to explode I handed it off at 95 reps, Ginger finished them off with 5.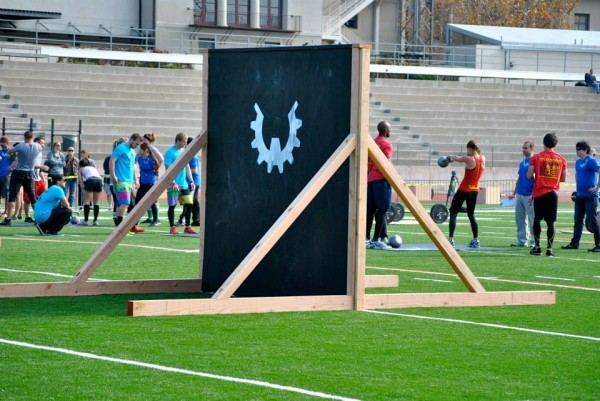 Walking like a zombie to the Back squat, not sure how everyone else was feeling at this point but I was beginning to feel the toll of the last 13 minutes. Again we lined up, one by one taking our turn at the back squats. With about 55 seconds left we got out 100 completed, after completing the last 15 reps i slowly turned around, waiting for the team to get back over the wall and just in time to see the human ladder get abused, Mee lee stepped on his hands, shoulders, chest, neck..Like a dog trying to get out of water and to know success only to fall backwards using the gluteus maximus as a not so nice cushion. We made it back to the prowler just as the time ran out DNF by 1 movement. What a class act!
With more then 2 hours rest we waited for our redemption with WOD 2:
5-10-15-20-25 Ground 2 Overhead (each person) 75/55
25-20-15-10-5 box jumps (each person) 24/20
1st member starts, 2nd member can starts when the 1st member has moved to box jumps, 3rd member can start when 2nd member has moved to box jumps, 4th member can start when 3rd member moves to box jumps…repeat until all members have completed all reps.
Then…
100 pull ups as a Team (one member can go at time)
Team 4x400M relay
fairly straight forward I lead the group followed by Jay, Ginger and Mee Lee, with the first part finished we moved on to pull ups 40 to open, followed by Jay who sustained a strain in his bicep while repping through those. We got to the run with just about 3 minutes remaining. I started the relay off and saw a another team member with about a 7 second lead, so I set my sights on him and passed him up, coming into the 3rd turn of the track I pondered about the idea that I was unsure my legs were going to keep up with my head and I was seriously hoping I didnt trip and do a triple tuck and roll back flop. With my hamstrings ready to curse me to hell I tagged Jay hand and off he went like a man on a mission. As the clock came down to 1:20 remaining Mee Lee started out and made it to the last turn. And with that was our day done, DNF.
At the end of the it all we came in 35th out of 55. And if a highlight reel would have had the fun pleasure to follow us they would have had, a Floater wod which was mucked up, with cursing and backtracking, a WoD 1 of confusion, stepping on peoples head, shoulders, chest falling backwards, A group of 4 yr olds going round and round with a Prowler, a gal cracking her head with a dumbell and pistols that were out of this world. WoD 2 found us with a shit together for the most part, Ginger finishing up the set of 25 with closed eyes and only a quick moment of a man coming off a bar grabbing on to a bicep and singing "sweet holy shit my arm is jacked!"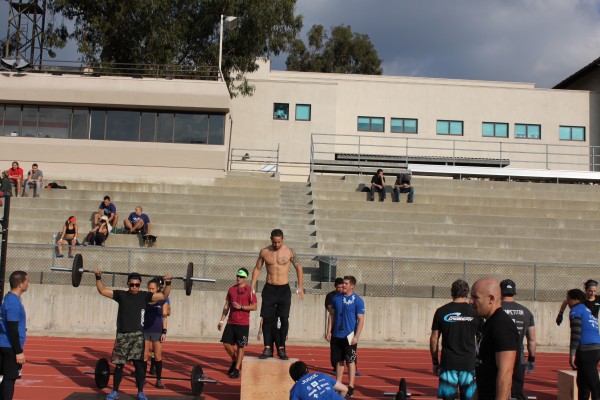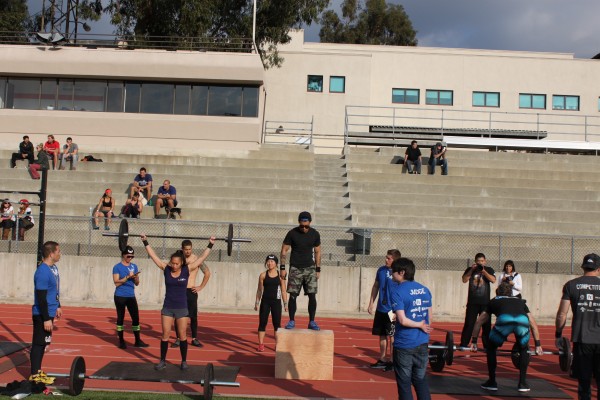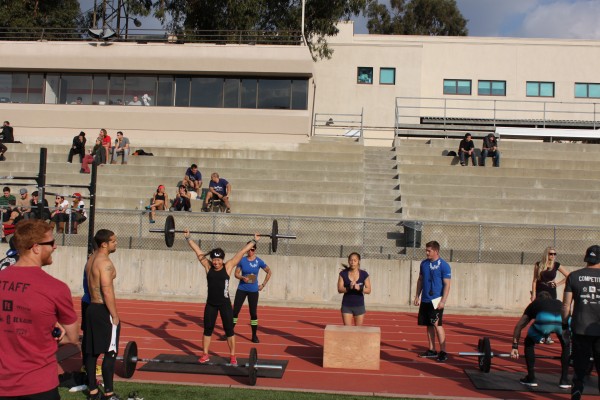 The point to this is I figure we can look back and laugh at this and remember about NOT how we did not do as good as we wanted to do but how damn silly we must have looked and with that good memories and all in the name of Fitness gone extreme. And for those who take these things of life to seriously are missing the plot entirely. Train Hard, have fun and give it all you have.
Fridays WOD:
5Power Clean and jerk@165
10 Burpee pull ups
Share on Facebook