Tri County Shakedown Summer 2011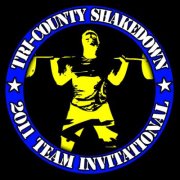 This was BeachSides for Team competition Event, and we were def. a force to be reckoned with. The Tri County Shakedown was the biggest Team Invitational outside the games……………………………….
36 teams from SoCal came down to represent their respective boxes, the day started cloudy and cool but would end up a heater. First up was team 1, Milan, Brad, Monica and Rhonda, the task? 4- 15ft rope climbs, 200 wall ball, 40 muscle ups, 200 KBS (@ 72/53) and 4 rope climbs 20 min cap. Brad was first in line for the rope, as usual eyes shut as he stood under the rope, going into the place only Brad knows.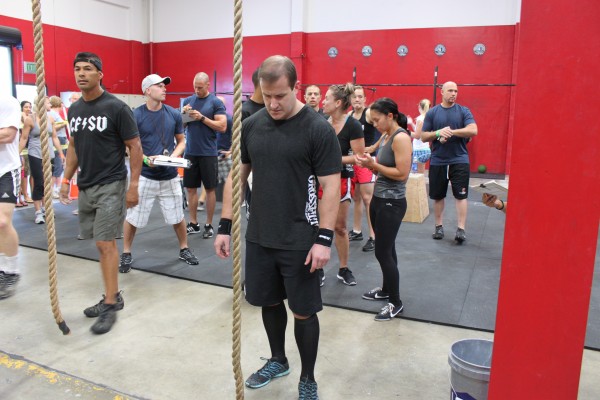 He made short work of that, Milan followed up and finally Monica, making good work of that rope and doing 2 climbs as to save some time for the team. They looked good on the wall balls, switching team members as needed.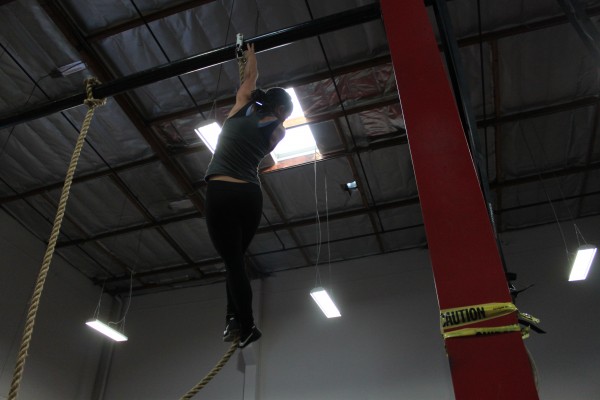 The challenge awaited for them at the Muscle ups, having just started doing muscle ups at all it was all up to Brad and Milan to get through as many as possible prior to taking the Tap out option and heading for the pull ups bars (for each Muscle up not complete X3 pull ups), the Rings were set at 1 height for all team members and this is when the magic of team work shown through, just peep the pic.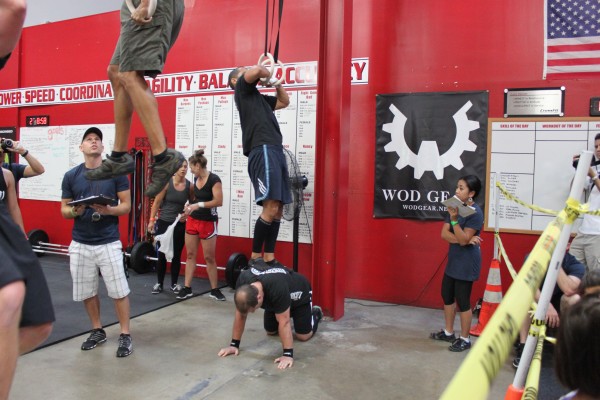 The B team pulled out 7 muscle ups prior to going to the pull ups, and KBS well done team.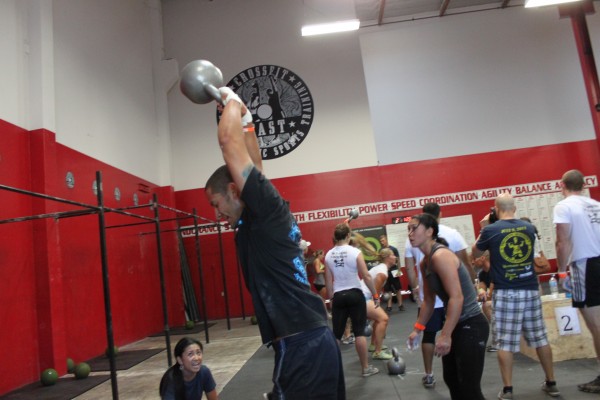 The mood was set the B team set the stage for Team 1 the BeachSiiiideeeers.But Before that could happen some serious weight had to be pulled from the ground. the Floater WOD 7 mins to find 1rm for each team member, we all know Brad by Buff n Stuff and there is a reason, but little did we know what Milan had in him, the girls as well. The stage was small and the spectators only a few feet away from the platform. Shoulder to shoulder we stood all eyes on the Bteam………7 minutes, adrenaline all make for some heavy things to be lifted. After watching the crew from "SuperFriends" do some amazing things, it was time for our team to attempt to defy gravity.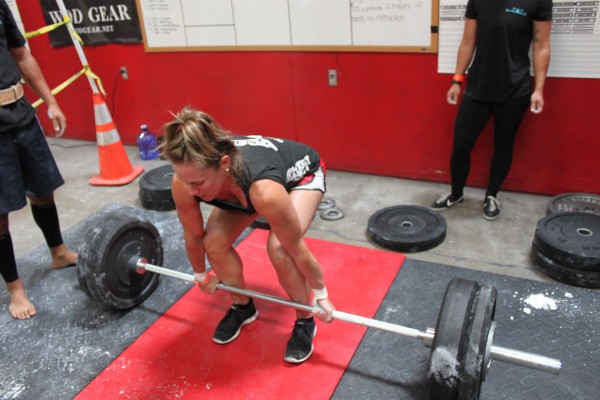 Rhonda sets up.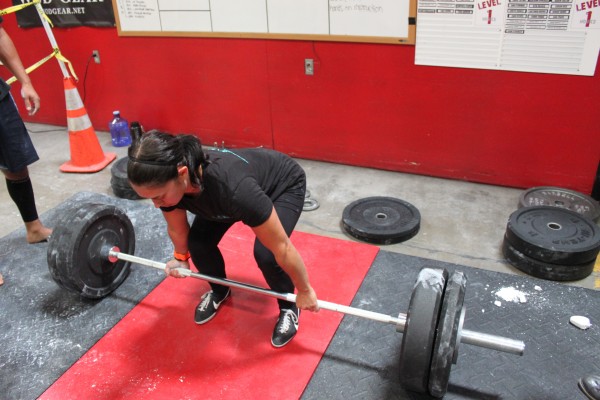 Dedicated and Focused..its damn scary picking up some heavy ass thing….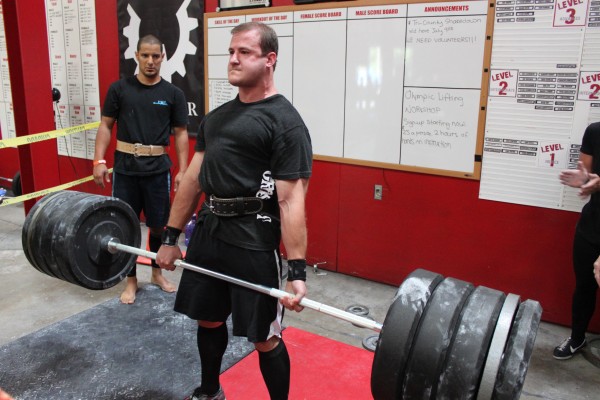 Looking like Super Hero..Brad goes with #455 , and Milan with a HUGE PR hit #365!!
A few hours later it was our turn, we had a strategy, I would do the first 2 rope climbs, Jay and then Mee Lee, once Mee Lee hit the top post on the climb I would be posted and primed to start off the wall balls, followed by Jay and finally the girls finishing off, leaving Jay and myself good to go with the muscle ups and so it was on.
Download | Convert YouTube to MP3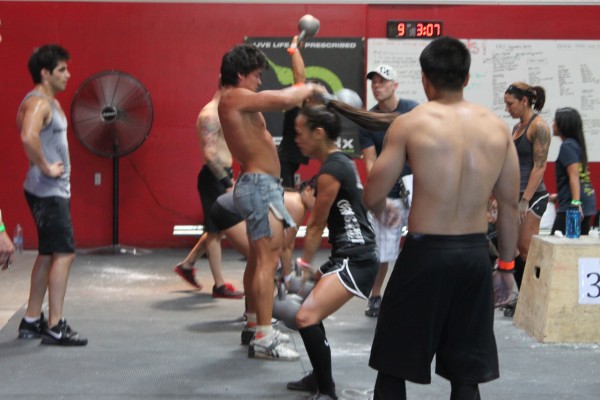 Lounging, talking, eating, hydrating….Alot of this is taken place in between heats, i have heard CrossFit events described as track Meets on crack. And the Tri County Shakedown was proving to be no different, as the sun passed overhead the heat would rise, as would the intensity of the next WOD. 2-4-6-8-10 Squat Clean to Overhead, 50 double unders in between sets. A guy and girl would go at the same time, when that pair finished with the task the next pair would move in and perform the same sets. If the Guy or girl could not complete the movement the partner could clean up the remaining reps. Sounds easy enough, until you start throwing around #145 overhead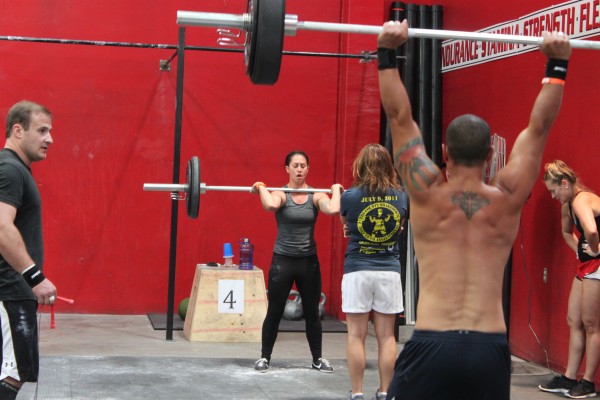 Team 2….the sheeeznit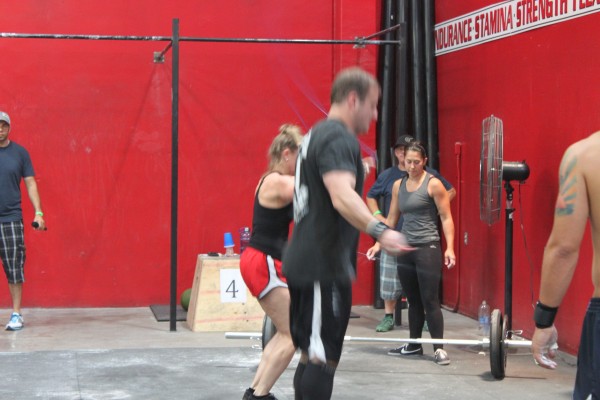 17 minutes later the B team competition day was complete.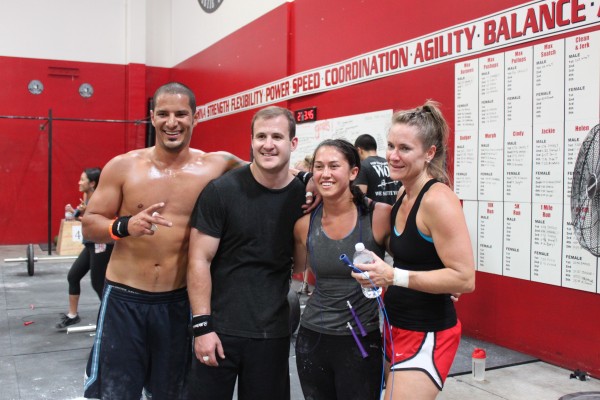 representing well!!!
with a total of #1200 pulled from the ground the Bteam left a high mark for the Sideeerrss to achieve, going into this WOD, we all felt as if our placement at 13th after WOD 1 would soon be lower. We had watched beastly guys, eyes gouging out pulling upwards to 500# , I myself had never pulled anything worth While in a long while………….what would happen???????????????This would.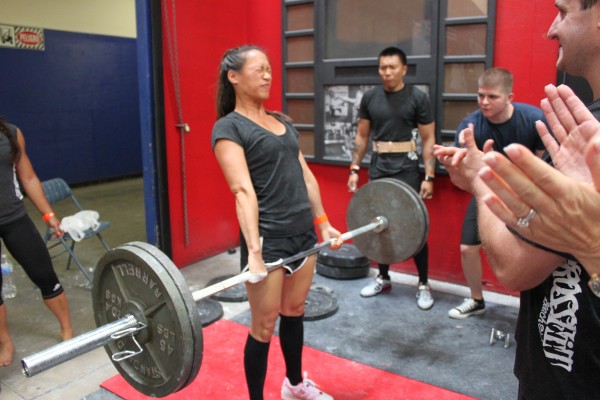 225#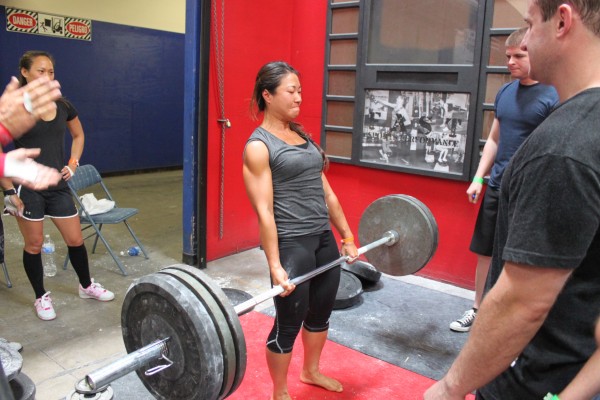 275#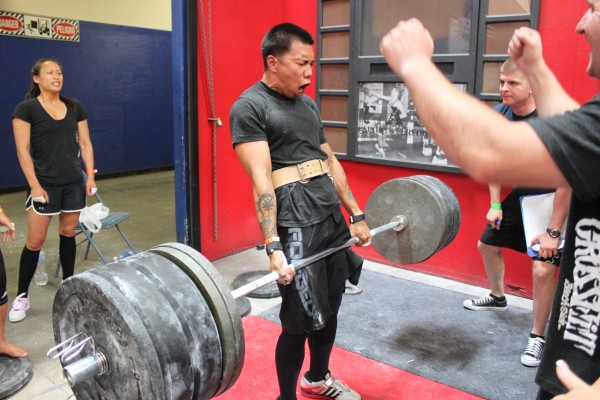 #435 and pissed!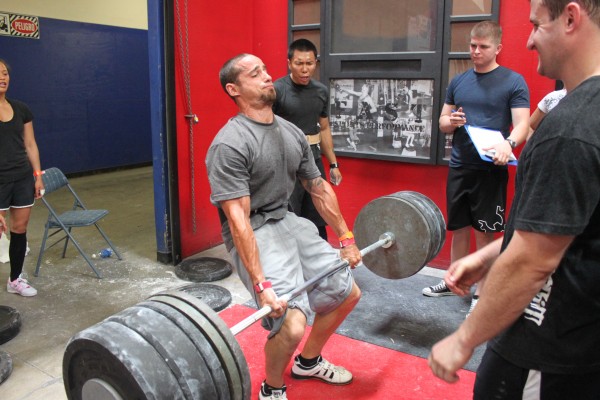 and………….arrgggggg…………….shit!!!!!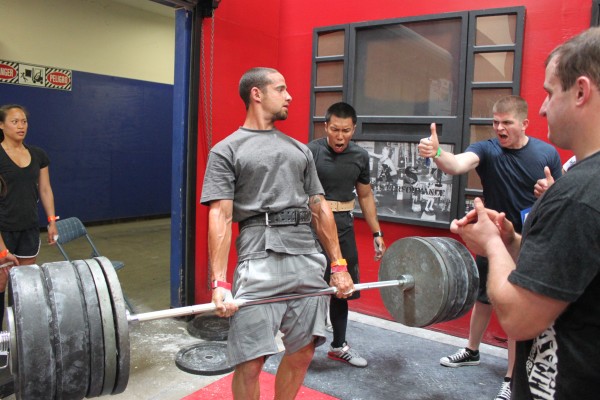 after failing the first 2-a fought for #435 and relieved- Total #1370
and a damn celebration ensued, in what we though was gong to be our lamest performance, ended up being one of our most gratifying ones.
It was not picking up #225 pounds that aggravated a old injury of gingers, but rather the picking up of the bar to put so we could put the weights on, with that information is was clear #105 Clean and Jerks would not be in Gingers best interest, luckily for us we could pick up and get our partners reps in, so our 2-4-6-8-10 had now just turned into 4-8-12-16-20 for myself, After many months of battling each other at the home box, Mee Lee and Jay would be in direct partnership going into WOD 3. A little beat down, achy and tired the time was 3:20 and it was time to get the last show of the day done.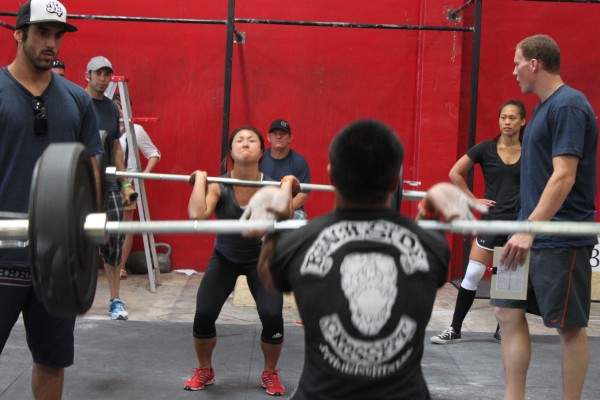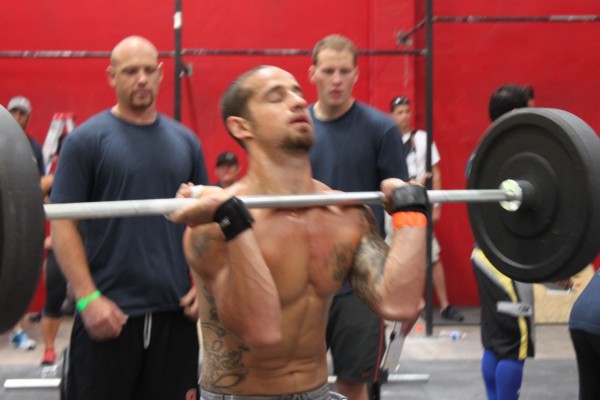 into the set of 16, that is the face of going into a dark place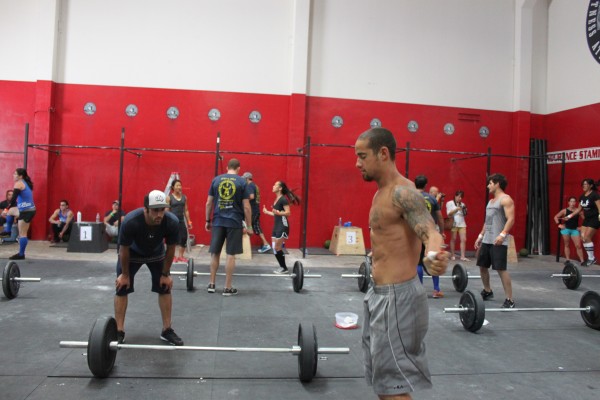 into the double unders, soon as wsa reaching my limit………….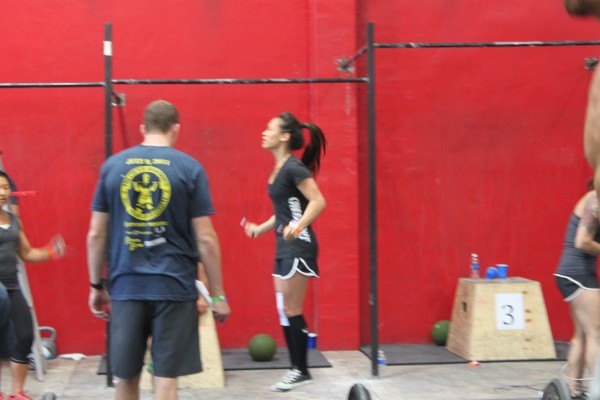 ginger would kick  it into high gear
and that was that. A long day, a positive day. a successful day.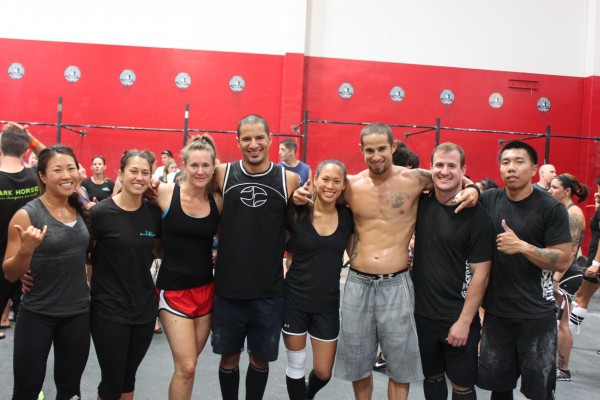 The B team Beat the crap out of Last Place!!!
BeachSideeeerrrss–9th out of 36
Share on Facebook