Spartan Race 2010
So, how much fun was that! hill runs, outfits, CrossFitters, mud crawls, cold water swims, some guy yelling at you while your going under barb wire and throwing mud on your face..We love it………………………
Myself, Mee, Jay, Kris, Ginger, Milan, Herb and Keith all spartan up for the day and threw down a little representing BSCF. And Wow, everyone did great! Mee 5th in women…Milan, Jay, Kris all within a few minutes of one another in the lower half of the pack, lets just say they killed about 150 other CrossFitters.AHROO….Keith and Herb, were passing up guys on the deck, throwing up..classic…..
I did alright..4th in CrossFit heat 6th overall….overall a very fun day.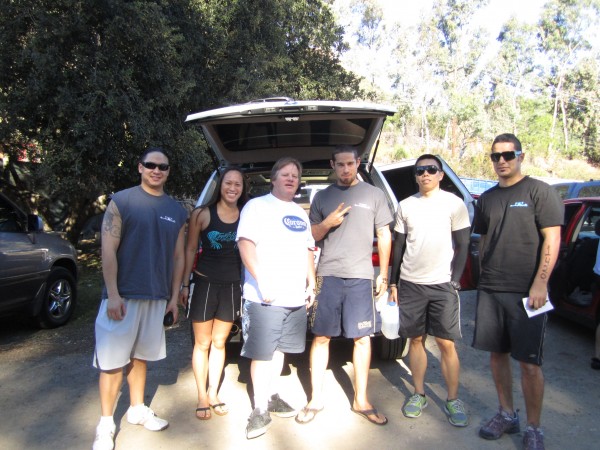 A quick recap, the race started with a high pressure hose of water to the face and fire jump prior to beginning the hill run, the hill was steep and only those foolish enough tried to run fast up the entire face. The Hill continued and continued and continued prior to some downward gravity assisted run, then skipping into the brush and one lane trails digging into the dense brush of small trees and dry undergrowth, dodging branches, up and over rocks the sun was blocked in these small passages by the very nature we were avoiding. After zig zagging our way through these natural obstacles and back out into the 80 degree sunlight…….another steep hill an up we went again, up and up and up…Finally some man made obstacles a couple 5 foot walls were easy effort, followed by some more running, climbing, and clinging for oxygen.A nice little zig, zag beam, fall off and your squatting. Of course this little balancing act was followed by a hill that made running an impossible feat. Stopping a few times to let the pain from my lower back subside, off again to the races, down , up turn, round a corner, dodge a rock, step on a snake ( ok that was fake) then to the fun part, an 8 ft wall………..Up and over. Then came the first sign of mud, little puddles only good for getting your feet muddy, but that was ok because up ahead off the wooden ramp was a nice 50 meter ice water swim (or wade if you were tall enough). The scenery didn't take my breath away but the shock from the cold water did. Up and out of that up another hill only followed by a downhill (take careful stepping as I am sure rocks, mud and water logged shoes do not make for a sticky surface). Voices were heard as you head down, voices of encouragement, voices of self confidence, NO, a voice of a guy yelling at you to hurry up as you mud crawl under barb wire and get mud thrown on your face. Make quick work of that and a silt bath of about 30 meters, again on your stomach and head is going below that rope which means silt face ( not good for contact lenses). 5 or so rope dives crawling through silt later and A side wall climb was made virtually impossible from the surface of mud that made slipping a very real option. No worries, 25 push ups and 25 situps made up for that. A bit more running and on to the sand mazes, up and down left and right. this made a bad spot for the slower buch as they clogged up the one lane path. Finish that, under a white fence, fun down a hill, throw a spear, rope climb over a wall and charge the spartan guys at the end. And its a done deal.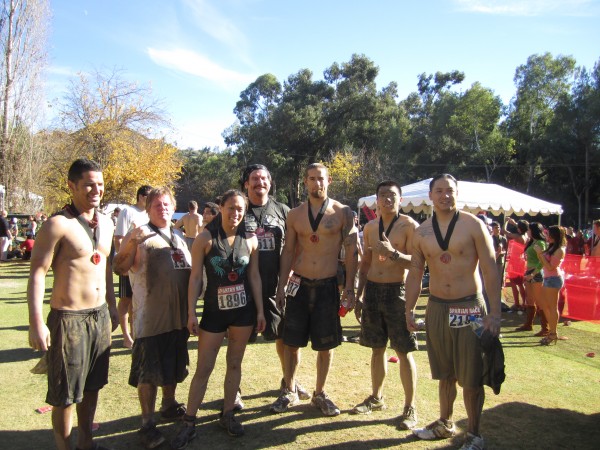 Classic points: Kris bulldozing the spartan guys at the end, Keith saving Herb in the cold water, Jay spraining his ankle and still finishing, Milan getting a mud pile thrown directly in the face and then drinking all our beers at the end, Myself dunking my head in mud water to get underneath a rope, coming up and having silt water in my contacts and seeing through fog vision the rest of the way, Ginger getting speared by the same spartan guy Kris bulldozed.. And Mee, she was in and out, top finisher of course.
Times:Males- out of 102 Females out of 36
Nathan-34:49 4th in CF heat
Mee-45:23-5th (females)
Milan-48:39 56th
Kris-50:49 -60th
Jay-51:13 61st
Ginger-54:58 19th(females)
Herb-1hr 2 secs -95th
Keith-1h2 16secs-96th
A very special thank you to all who came out, it was a fun day and I hope next time around I see more of the crew…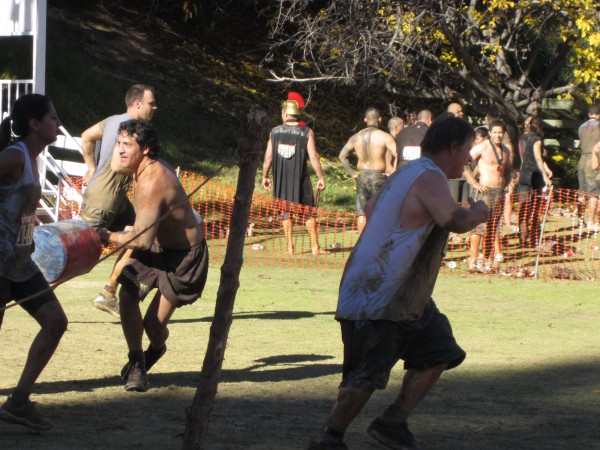 get some…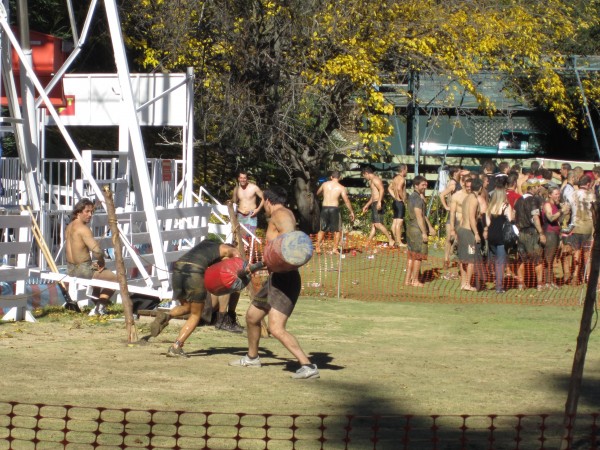 Nice work Ginger!!ON the wall..not the final spartan guy dodge.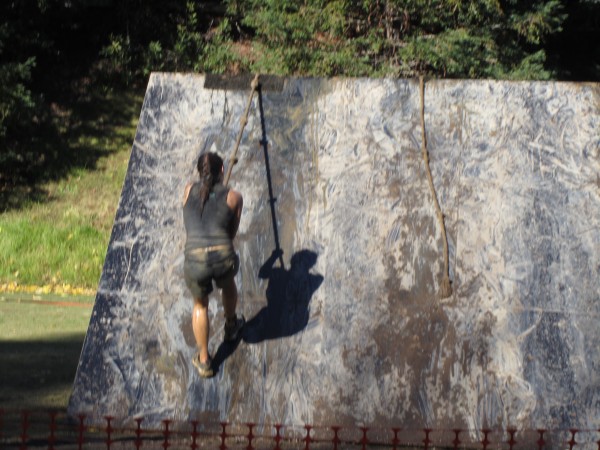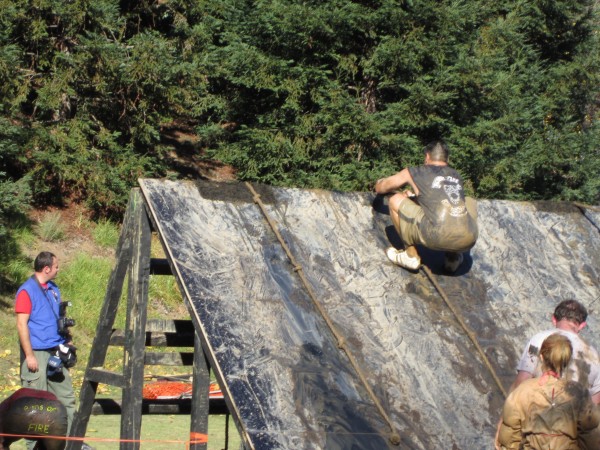 up and over Kris.

Dont stick your target on the spear throw..Push ups..Mee!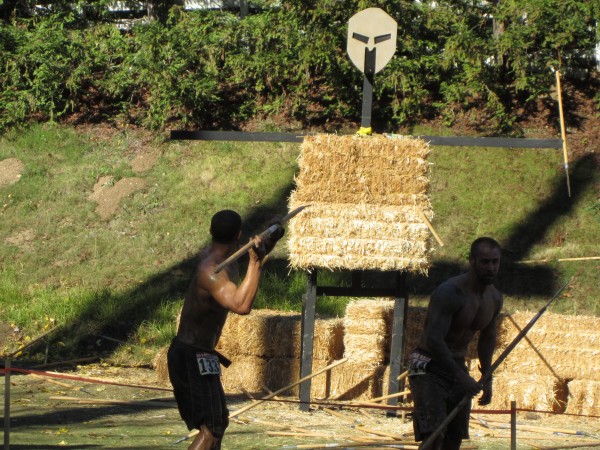 A natural..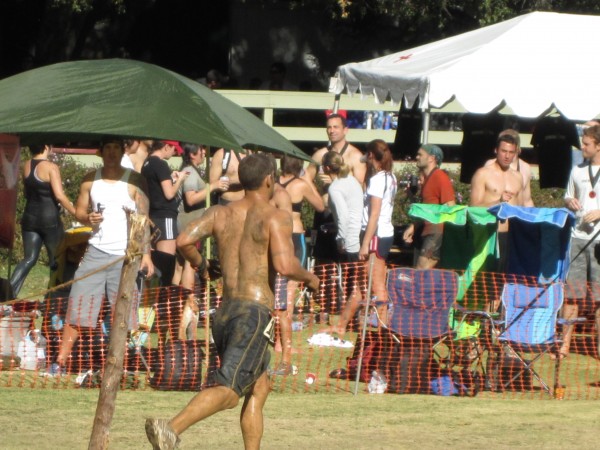 I hope thats mud….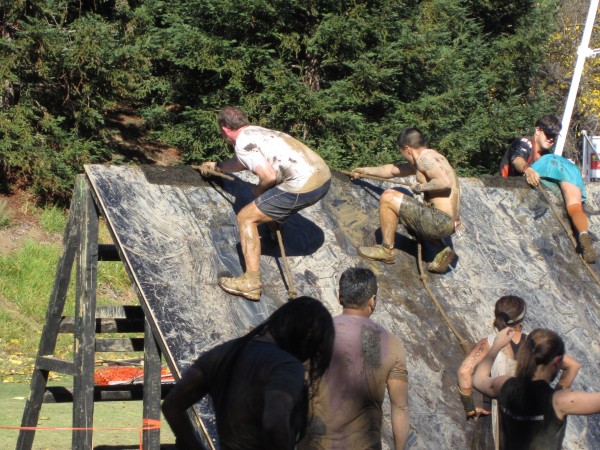 Speacial forces Jay……………all day.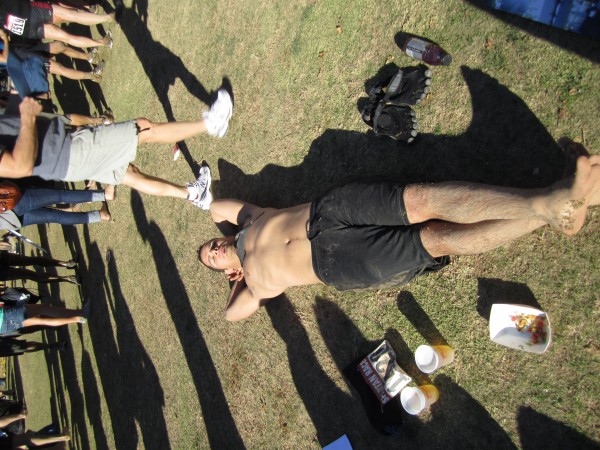 What else do you do after a hard say doing Spartan stuff……
Share on Facebook