Benchmark Wednesday kicks off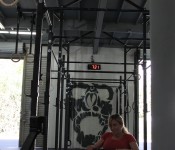 WOD:
Barbell Training-
Press
7×2
use heaviest weight possible to complete all 7 sets
Conditioning-
2000 meter row(BM)
then
2 min rest
1000 meter run
* focus is on row do not pace for run.
** THIS SATURDAY BSCF GRAND RE OPENING!

Today we started Benchmark Wednesdays,and it started with 2000 meter row. for weeks to come we will start to compile scores and begin to update out leader boards. This is not a reason to avoid, but a reason to make it to wed, class. When benchmarks are going on its about competition time. You are now in full competition with yourself. doing your best to beat the "old" you. We should all be on a steady improvement.
How not to row

Download | Convert YouTube to MP3
and a 5:52 -2000 meter row..that's a 1:27 500 meter split time average.
Download | Convert YouTube to MP3
Share on Facebook