Ben "Bennyhana" Johnson
Ranked 603 in southern California
Ranked 7495 WorldWide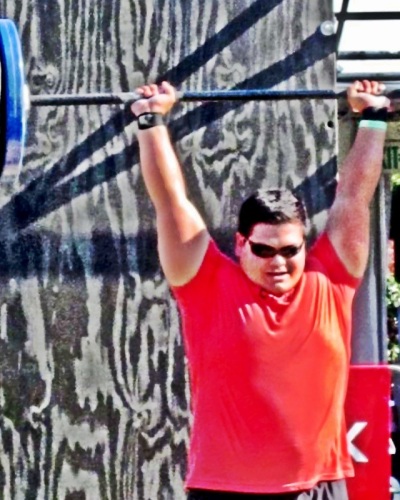 Name: Ben "Bennyhana" Johnson
You're Job: Trauma Services Analyst (Ventura County Medical Center)
How long have you been CrossFitting? 3 years
What was your favorite WOD of the open?  12.1.
What are your thoughts on going to the regionals? I'm excited to represent BeachSide, and I'm glad to have such an awesome team representing our gym.
What are the strongest strengths of the team? We have fun!
How do you believe the team will do? Not last.
How do you believe you will do? Not last.
Encouraging words for those that may be struggling with CF? I think that everyone who comes to the gym is looking for something different.  I encourage everyone to find what they're looking for  by taking the inspiration of one another.  You may not know that people look to you for inspiration.  CrossFit is hard.  If it were easy, there would be way more people doing it.
Any comments you would like to tell the coach of BSCF? I love that you practice what you preach. Preach on! I will kneel on my pew with weighted barbell any day with you.
Coaches thoughts on Ben:
Strong as shit. Likes to pick up heavy things. And his motor is very deceiving. From a wrestling background and War veteran. Ben has literally helped save lives and continues to make the lives of those around him better just by being Ben. As far as fitness Ben has this weird ability to go to the dark place and find his little baby Jesus to push him through WoDs and he is not even all that religious. The fact that he gets in that state of mind should be a good indicator of 100% effort.
Share on Facebook