BeachSide raised over $1200.00 for St Judes Childrens Hospital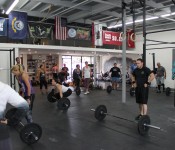 WOD:
Barbell Training-
Press
3×5
Conditioning-
400 meter run
20 push press
40 pull up
70 push press
40 pull up
20 push press
400 meter run
75/55
and it was hard, very hard…..
Event was great, good people, hard WoD, great cause. All in All 100% a success…
Out of 930 affiliates, BeachSide CrossFit was 253 on the leaderboard of money raised:) with $1240.00 going to directly to St Judes Childrens Hospital where NO family pays for their childrens medical care. All of us with healthy children ALWAYS count your blessing that you are not in need of St Judes services, and that your donation will directly go to those that need it.
Share on Facebook