BeachSide gets ready for Beach Cities Battle CrossFit Competition. This Saturday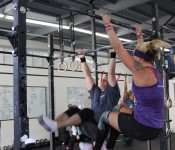 WOD:
CF Gymnastics:
Toes 2 Bar
Barbell Training:
Squat
3×5
*increase from last squat
Conditioning**:
20 Jumping Lunge
then
12-9-6
(full)Clean
TTB
Lateral Burpee
then
20 Jumping Lunges
*Cash out
100 double unders (BSCF BONUS)
165/115- advanced
85/115- intermediate
**BBBC WOD2
CrossFit Code 3 presents the Beach Cities Battle, a 2-division competition with awards for top overall and top beach cities athlete.
Where: 22724 Hawthorne Blvd, Suite C, Torrance, CA 90505
When: Saturday, August 18th, 2012 from 8:00am to 4:00pm
Come test your fitness against the top athletes in the So Cal region. Local Beach Cities competitors have the chance to be crowned Beach Cities Fittest.
Justin, Brad, Sloane, Smash and Herb are confirmed for this throwdown. We had other competitors, including myself who are no longer in due to healing up injury. I will still be out to represent and support.
For all of you that did today WOD at either of the RXd weights you have some idea what these athletes have to expect this Saturday.
Share on Facebook